Achievement: Automotive Hall of Fame
Dearborn, Michigan, United States

CREATIVE DIRECTION + CURATION

THE ASK: Research and create videos for Achievement: African Americans in Automotive.

THE IDEA: Following Automotive Hall of Fame's Branding and Style Guide, create and research 16 profiles following the Achievements of African Americans in Automotive. Create digital graphics, videos and curate and archive physical objects and representations of individuals.

THE EXECUTION: In two months, a full curated exhibition was created curated digital and physical objects as well as a 20 minute exhibition video available online and at the exhibit.

THE RESULT: A successful exhibit with educational, interactive and archival features. Exhibit will now be transformed as a touring exhibit.
Automotive Hall of Fame Induction Ceremony 2023
Creative Director for 6 mini documentaries and manifesto video for the 2023 induction ceremony gala for the Automotive Hall of Fame.
Concept a social media marketing campaign for various clients including Chulita Vinyl Club, Future Traditions, and Miraaa media Festival. Created graphics, video and engagements.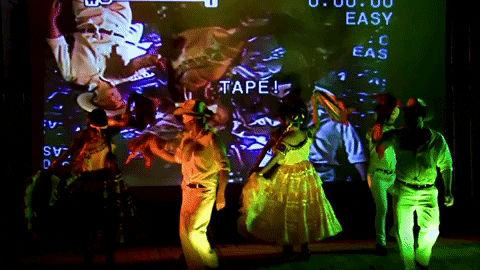 Future Traditions Festival
Future Traditions serves as platform for experimental Latinx arts in the US and beyond. The mission of Future Traditions is to support innovative explorations of the intersections between experimentation, technology, multimedia, and the rich heritage of performance practices originating in Latin America and the Caribbean, extending and facilitating these practices in the 21st century.

As creative livestream producer, I produced, communicated and designed all digital content and programs for Future Traditions 2020. All graphics and artist interviews on the website were created and designed for the festival.
SXSW creative activation, Human by Orientation LGBTQ+ Happy Hour. Featuring musical performances by VINCINT and Big Freedia, an interactive gallery with artist Natalia Rocafuerte. The SXSW pop-up was created as a space to celebrate sexual and gender diversity in premium cable television. #humanbyorientation

Client: 360 Agency and HBO
Austin, TX
Independent Film Festival Ypsilanti
Program curator, education program organizer and grants/funding researcher for two seasons of Independent Film Festival Ypsilanti.
Collaborated with Private and City organizations on programming. Curated a two short
LGBTQIA+ programs. Lead production design efforts and website content. Coordinate
with artists, and board, open film call as well communications with artists, venues, vendors, and board members.
Lead graphic web designer and creative producer for the border based Media Festival Miraaa Media Fest.
Coordinated livestream with over twenty artists, collaborators and directed all digital assets to virtual festival.
Wide Awake X Pabst Blue Ribbon
Kicking off their big move to San Antonio, Wide Awake teamed up with Pabst to create a week long immersive pop-up art show, with over 1,500 guests coming through the Aztec Theatre. Collaborating with San Antonio artists Chris Sauter, Natalia Rocafuerte, Charlie Kitchen, Ryan Hunter and fabricators Dom Jimenez and Alan Weissling

—guests explored the foyer of the Aztec Theatre and interacted with our 5 immersive spaces. As an extra bonus, nail artist Dezarae Zarate hosted our creators lab and gave guests custom nail art, inspired by each creative space. Guest DJ group, Midnight Swim, dropped by opening weekend to help set the scene, for a very fun night.

I was consulted on creating graphics for the event, wiring a TV tower and executing the creative concept.